Be Comfortable in Your Own Home
Since 1983, Day has been providing quality, reliable service, expert workmanship, friendly 24-hour emergency service, fast response times, and the best parts and equipment available for residential and commercial applications.
We proudly sell the finest heating and cooling equipment in the industry – featuring Bryant furnaces, air conditioners, heat pumps, boilers, ductless, and more.
You can count on us to service all makes and models of heating and air conditioning systems.
We've built our reputation on exceptional customer satisfaction through quality work, attention to detail and prompt service. Our team of factory authorized, uniformed, licensed technicians draws from innovative technology, a vast inventory of genuine manufacturer's replacement parts, and know-how resulting from our many years of service.
Whether you're in the market for repair, installation, or maintenance, we have options for all budgets. Your home comfort and safety are our highest concerns and we look forward to serving you.
We specialize in the installation, service, and repair of the following residential and commercial systems:
Furnaces
Air conditioners
Heat Pumps
Boilers and Radiant Heat
Ductless Split Systems (Mini-split)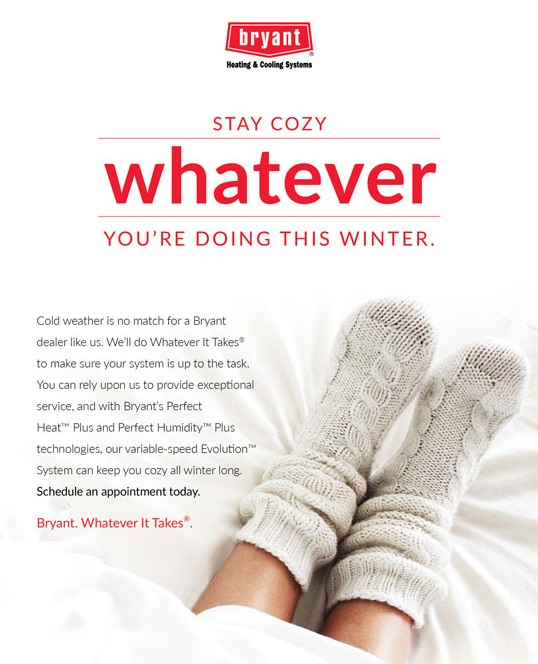 24-hour Emergency Plumbing and HVAC Service
Emergencies happen. You need help fast.
That's why Day Plumbing, Heating & Cooling offers friendly 24-hour emergency service.  Simply call 507-235-9009 and follow the prompts to connect with one of our Expert Plumbers/HVAC Technicians.
 What to do while waiting for emergency services:
If your air conditioner's line going into your home is frozen Turn the unit off 2-3 hours before we arrive for your repair
Assess the situation– the more you can describe what's going on, the better equipped the tech will be with supplies before heading to help you.
Be proactive. Eliminate the need for many emergency calls by scheduling regular maintenance including regular filter changes and unit cleaning by a professional. 
Book an Appointment
We cover all of your HVAC and plumbing needs. Book an appointment with us or give us a call for a free quote.
What People are saying
Another Great Job. THX
– David K
Frequently Asked Questions
How often should I replace my furnace filter?
To help avoid costly repairs and maximize performance, recommended intervals are as follows: one-inch disposable filters should be replaced monthly.  Two-inch filters should be changed every two to three months. Five-inch MERV 8 filters we typically include with most of our furnace installations should be changed every six months. If you have allergies, smoke indoors, burn candles, have pets, or have construction in your neighborhood, it's likely you'll need to replace filters more often. Many thermostats included with new installations will automatically tell you when to change your filter.
What is the optimal humidity level for my house?
Every house is different, but an ideal humidity level for winter is 30-40%. Higher humidity in the winter makes your home feel warmer while your thermostat setting is lower. Optimal indoor humidity in the summer is 45-50%.  Reducing your humidity during the summer provides that same effect of added comfort without adjusting your thermostat to a lower temperature. A whole-home humidifier and dehumidifier are the best options for staying economically comfortable all year long.
How often do I need to have my heating and cooling equipment serviced?
Annual maintenance by a qualified company is recommended to promote energy efficiency, help prevent breakdowns, and extend equipment life.  It is always a good idea to test your system before you really need it to avoid emergencies.  Call us for service before extreme weather hits.
Does it matter what time of year my furnace or air conditioner is serviced?
No. We can perform service at any point during the year. However, since it's an outdoor unit, it's best to have an air conditioning system serviced when it's at least 70 degrees outside.
When do I know it's time to replace my furnace or air conditioner?
With proper maintenance, most furnaces last 16 to 18 years. Older systems are less energy-efficient and more costly in terms of repairs, replacement parts, and utility bills. If your heating system is over 10 years old it may last another 10 years if you do regular maintenance and minor repairs, but watch for slower warming, reduced airflow, higher energy bills, strange odors, and loud noises. These may be signs to consider a new furnace installation.
To fix or replace? As a general guideline, consider a replacement if the equipment is beyond three-quarters of its life expectancy and repairs will cost more than a third of the replacement. Also consider the cost to operate it each month because a newer, more efficient unit could save you money over time.
When is the best time to replace my furnace?
If you wait until your furnace dies to consider replacing it – it becomes an emergency- usually at the least opportune time. In a rush to restore heat, you may not carefully weigh all your options for service and savings, plus it will be more difficult to schedule an install in a timely manner. If you have annual maintenance performed, we'll be able to catch early warning signs and give you recommendations for a new installation before you have an emergency.
Get a Free Quote -or- Ask a Question

1410 E. Blue Earth Avenue
Fairmont, MN 56031
info@dayplumbing.com