Our History
Leo Krumholz
Leo Krumholz started Day Plumbing in 1983, working out of his house on Day Street in Fairmont.  Sons, Leonard and Bill joined him later that year – Leonard as a Master Plumber and Bill as an Air Conditioning, Furnace, and Sheetmetal Serviceman.
Day's history goes back to 1944 when Leo started working at Krosts Plumbing and Heating.  In 1951 he was hired by Iowa Electric Light and Power as their Gas Appliance Serviceman.  Leo worked at I.E. for 33 years, plumbing nights and Saturdays for Kross, Long & Manning, and others.  When offered early retirement, Leo took on Day Plumbing full time.
Leo's motto was: "Do the job like you would want it done in your home, and treat your customers like you want to be treated." Today Day Plumbing still lives by this motto and always will.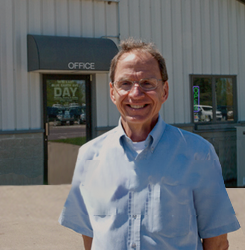 Leonard Krumholz
Leonard Krumholz grew up helping his dad, Leo.  He went to vocational school in Mankato for electrical and then worked for DeWar Electric for a time before opening Krumholz Plumbing with his brother John.
Later as a licensed master plumber, Len moved to the Seattle area where he worked for Peter Kiewit and Sons building a nuclear plant. When he came back to Minnesota he worked as a union plumber in the Twin Cities until 1983 when Leo became so busy that he needed help, resulting in Len and Bill joining forces with him back in Fairmont.
Leonard cares about people. His attentiveness showed in his service to them and through his dependability, working day and night to get their projects done.
"Like a magazine" Bathroom remodeling was Len's specialty. Under his technical guidance and eye for style, he helped customers achieve the bathroom of their dreams, with the final product looking like something that belongs in a magazine.
Len retired in July 2018 and is enjoying remodeling projects at his own home and traveling with his wife, Sandra.
Bill Krumholz
Bill joined Leo and Len, after attending vocational school in Albert Lea for heating and air conditioning, thus creating Day Plumbing, Heating & Cooling.
"Service is the most important thing we provide. That's what we 've built our business on," says Bill.
"Our trucks are fully stocked, electronically dispatched, and loaded with parts, which allows us to get the job done on time with fewer trips back to the shop.  Our servicemen are the best around and your satisfaction is guaranteed."
For decades, Day Plumbing, Heating, and Cooling has been earning the trust of area homeowners and keeping families safe and comfortable. We've grown to a 20 plus employee team with fifteen service vehicles, offering 24 Hour "On Call" Emergency Service.
We offer Hydro-Jetter drain cleaning, Water Conditioning equipment (softeners as well as iron breaker), Fireplaces, as well as all other Plumbing, Heating, and Cooling needs for your home or business.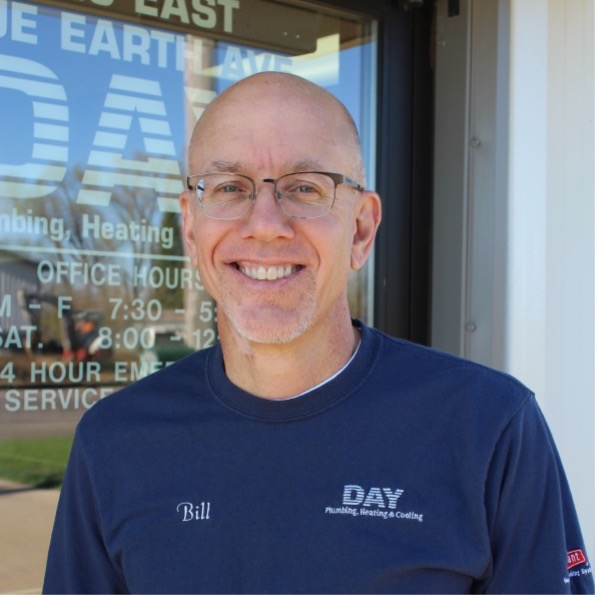 Frequently Asked Questions
How often should I replace my furnace filter?
To help avoid costly repairs and maximize performance, recommended intervals are as follows: one-inch disposable filters should be replaced monthly.  Two-inch filters should be changed every two to three months. Five-inch MERV 8 filters we typically include with most of our furnace installations should be changed every six months. If you have allergies, smoke indoors, burn candles, have pets, or have construction in your neighborhood, it's likely you'll need to replace filters more often. Many thermostats included with new installations will automatically tell you when to change your filter.
What is the optimal humidity level for my house?
Every house is different, but an ideal humidity level for winter is 30-40%. Higher humidity in the winter makes your home feel warmer while your thermostat setting is lower. Optimal indoor humidity in the summer is 45-50%.  Reducing your humidity during the summer provides that same effect of added comfort without adjusting your thermostat to a lower temperature. A whole-home humidifier and dehumidifier are the best options for staying economically comfortable all year long.
How often do I need to have my heating and cooling equipment serviced?
Annual maintenance by a qualified company is recommended to promote energy efficiency, help prevent breakdowns, and extend equipment life.  It is always a good idea to test your system before you really need it to avoid emergencies.  Call us for service before extreme weather hits.
Does it matter what time of year my furnace or air conditioner is serviced?
No. We can perform service at any point during the year. However, since it's an outdoor unit, it's best to have an air conditioning system serviced when it's at least 70 degrees outside.
When do I know it's time to replace my furnace or air conditioner?
With proper maintenance, most furnaces last 16 to 18 years. Older systems are less energy-efficient and more costly in terms of repairs, replacement parts, and utility bills. If your heating system is over 10 years old it may last another 10 years if you do regular maintenance and minor repairs, but watch for slower warming, reduced airflow, higher energy bills, strange odors, and loud noises. These may be signs to consider a new furnace installation.
To fix or replace? As a general guideline, consider a replacement if the equipment is beyond three-quarters of its life expectancy and repairs will cost more than a third of the replacement. Also consider the cost to operate it each month because a newer, more efficient unit could save you money over time.
When is the best time to replace my furnace?
If you wait until your furnace dies to consider replacing it – it becomes an emergency- usually at the least opportune time. In a rush to restore heat, you may not carefully weigh all your options for service and savings, plus it will be more difficult to schedule an install in a timely manner. If you have annual maintenance performed, we'll be able to catch early warning signs and give you recommendations for a new installation before you have an emergency.
Get a Free Quote -or- Ask a Question

1410 E. Blue Earth Avenue
Fairmont, MN 56031
info@dayplumbing.com