Breathing Easier with Cleaner Indoor Air
Never underestimate the impact that air quality can have on your health. The quality of the air in your home or workplace can be more polluted than outdoor air and is important not only for your comfort but for your health.
According to the Environmental Protection Agency (EPA), the air inside the average home is up to five times more polluted than the air outside. Results from in-home air tests across North America support this government finding. Nearly every home (96%) had at least one indoor air quality problem.
"Poor indoor air quality (IAQ) has been tied to symptoms like headaches, fatigue, trouble concentrating, and irritation of the eyes, nose, throat, and lungs." (U.S. Department of Labor) Daily activities, building materials, air-tight homes, and household products all contribute to indoor air pollution in your home or business.
Filtration, or the removal of dust, allergens, pollen, contaminants, and odors, can improve the air quality of your home. Most homeowners don't realize that the traditional 1-inch furnace filter only provides minimal air filtration.
As a Bryant Factory Authorized Dealer, we can discuss solutions to your air quality needs.  Our team is fully licensed, highly trained, and qualified to match your particular needs to the best IAQ resolution.  From advanced filtration and air purification to UV lights, Ventilation Systems, Radon Mitigation, Humidifiers, and Dehumidifiers, we accommodate your existing HVAC equipment and provide whole-home air quality improvement.
With indoor air quality products from Day PHC, you and your family can breathe easier than ever before.
Even one product from our indoor air quality lineup can increase your air quality and improve health conditions. Choose a star player or form an all-star team to fit your needs.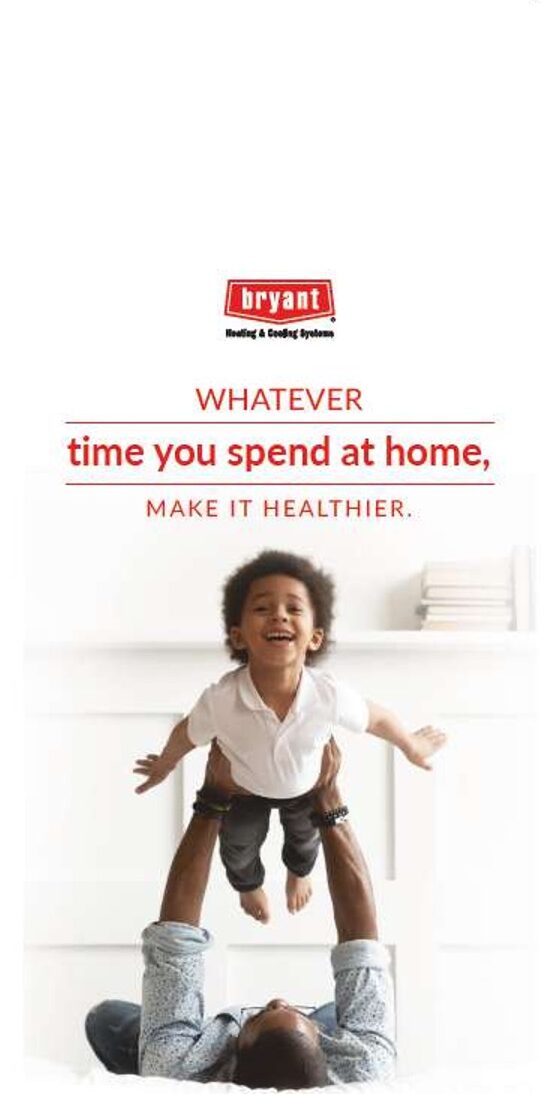 Day offers Simple, Healthy Solutions for Better Indoor Air Quality:
UV treatment devices and light bulbs kill airborne bacteria, viruses, microorganisms, mold, and odors.
Air to air heat exchangers (Home Ventilators) transport clean air from the outdoors, while controlling humidity and minimizing heat loss/gain.
New air conditioners –  A new Bryant air conditioner has enhanced dehumidification features when paired with the furnace. You can lower the humidity level without dropping the temperature, saving on electricity and helping you feel more comfortable at higher temperature levels.
Air purifiers and cleaners stop recirculating contaminates throughout the home. Kill and capture them instead.
Our recommended 4-inch media filters with MERV 8 ratings filter out air particulates while allowing airflow to efficiently supply the furnace. See us for 1-inch filters too.
Whole-house humidifiers, steam humidifier units, and basement dehumidifiers help to control the moisture level of your indoor air. Some humidifier units are even available with outdoor temperature sensors to automatically adjust humidity levels as well as conserve water.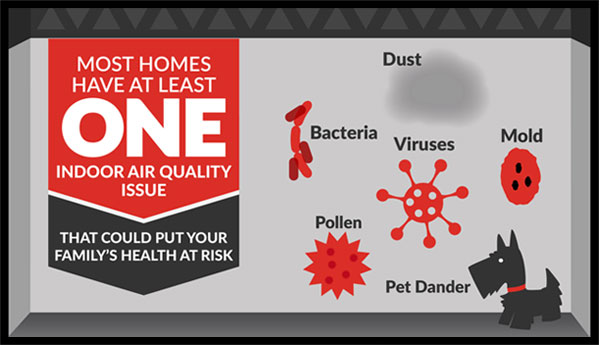 Improving What You Can't See
Bryant® UV Lamps are designed to drench your cooling coil with intense UV-C light that sterilizes coil surfaces and maximizes efficiency. Bryant has taken this technology and adapted it to protect the air you breathe. It's safe, reliable and proven.
Bryant® UV lamps are a simple addition to your home comfort system that is designed to help eliminate molds, bacteria, viruses and other irritants that can be circulated into your air.
The indoor coil is part of what cools your home, but it and its drain pan can also be a favorite hangout of mold and bacteria. Growth of these organisms can affect efficiency and reduce airflow. They can even become airborne.
Bryant's UV lights are designed to kill the mold and bacteria that can grow in the moist environment of your indoor coils to help keep your system efficient and clean air flowing.
Standard Features
Intense UV light is designed to kill bacteria and mold growing on and around the indoor coil
Minimizes microbial build-up on coil and drain pan and prevents it from becoming airborne
Enhances airflow
Helps maintain system efficiency
Silent operation
10-year limited warranty, 90-day limited warranty for bulbs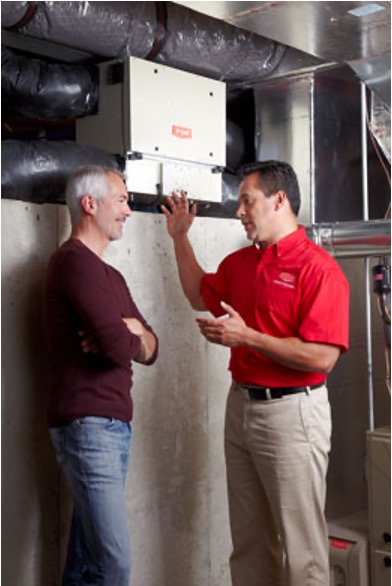 Freshen Up Your Home with a Ventilation System
Indoor air pollutants come from a number of sources – pollens, molds, viruses, dust mites, animal dander, carbon monoxide, tobacco smoke and volatile organic compounds from common household products. Locating and minimizing these sources can help improve your home's air quality.
Improving ventilation is the next step:
Use available exhaust fans when cooking, showering, cleaning or using other household chemicals
Contact your Day Plumbing Home Comfort Advisor about whole-home ventilation systems – Heat Recovery Ventilators (HRVs) and Energy Recovery Ventilators (ERVs) that efficiently bring fresh air inside and exhaust stale air outside
Comfort and Efficiency
Energy Recovery Ventilators (ERVs) are designed to minimize energy loss while bringing fresh air into your home and exiting stale air year-round.
Energy recovery ventilators use the outgoing air's thermal energy to pre-condition the air coming in so you can enjoy fresh air without overworking your system.
Energy recovery ventilators are best used in climates where the summer is hot and humid.
High-efficiency, energy recovery
Mitigates humidity from incoming fresh air
Pre-filters air for reduced indoor air pollutants
Crossflow configuration ensures there is no mixing of stale, outgoing and fresh, incoming air
Crossflow, paper core
Capable of intermittent- or continuous-mode operation
Automatic defrost cycles for operation below 23°F
Easy "no tools" maintenance
Acoustically engineered for quiet operation
10-year parts limited warranty
Heat Recovery Ventilators (HRVs) let you enjoy fresh outdoor air in your home year round and expel stale, sometimes unhealthy air all while minimizing heating energy loss.
They use the outgoing air's heat energy to pre-condition air coming in to keep your heating system working efficiently.
Heat recovery ventilators are best used in climates where the winter is cold with less humid summers.
Air Purifiers
Our Best Defense
Doors and windows invite pollen, friends and family spread bacteria and viruses, fine dust flies off furniture and floors, and don't forget about hair and dander from pets. It's all trapped inside, circulating in the air that you breathe. That's why the EPA has identified indoor air pollution as a high-priority public risk.* Because your indoor air is under constant attack, you need an effective defense – the kind you get with the Bryant Evolution air purifier.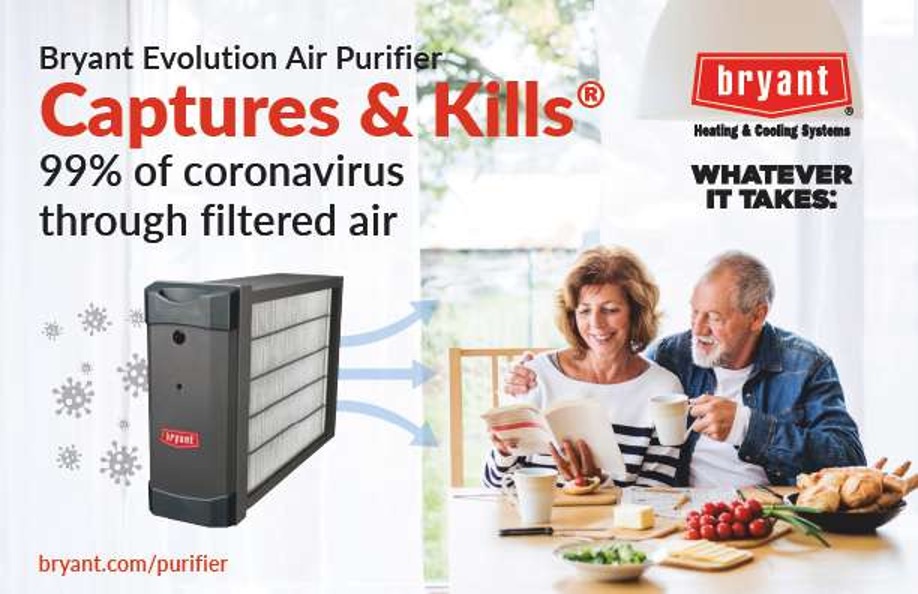 Filters
EZ Flex, Purolator, and Air Bear Filters and more…
Today's homes are more energy-efficient than ever – sealed tighter and better insulated to keep heated or cooled air on the inside. The unfortunate side effect is that these same homes also do a better job retaining dust, dirt, pollen and more, trapping them inside to circulate and recirculate throughout your living spaces. These particles settle on furnishings, pollute the indoor air and rob your comfort system of efficiency by restricting airflow and making it work a little harder. EZ Flex, Air Bear, and Purolator filters can help alleviate those issues, effectively clearing the air of more than 90% of airborne particles as small as 1.0 microns in size.
See us for all your furnace filter needs.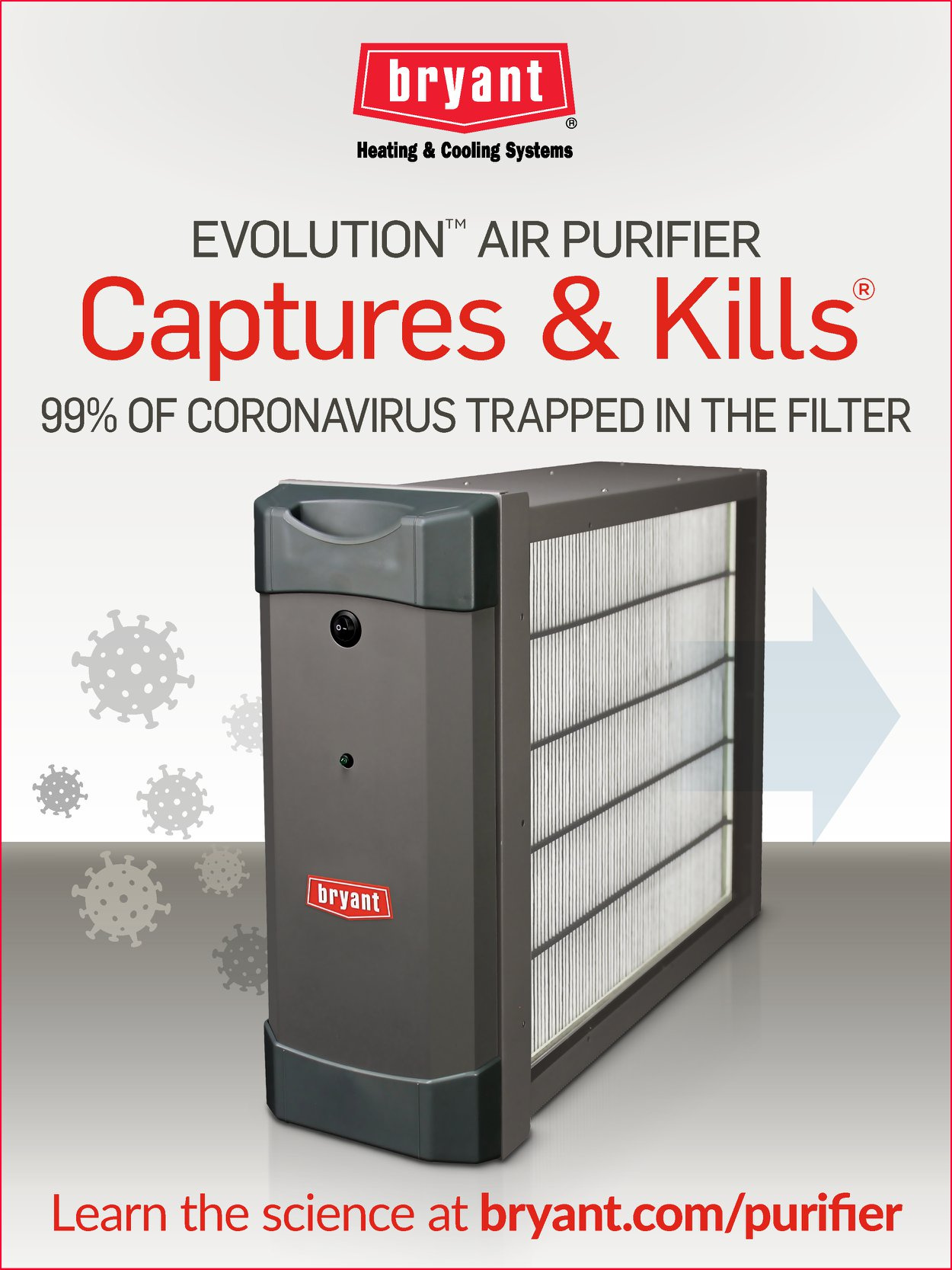 Get a Humidifier to Alleviate Dry Winter Air
Your home can be uncomfortably dry in winter, but whole-home humidifiers work with your furnace to add moisture to the air. This helps you avoid itchy skin, nose bleeds, a dry cough, fly-away hair, and frequent colds. You'll also feel warmer without turning up your thermostat. That's because the moisture in the air holds heat energy better than dry air. In addition to feeling better and saving money, you can also protect your home with a humidifier because overly dry air seriously damages wood furniture, floors, doors, and windows. When you add up all the benefits, you'll see why more and more homeowners are asking for this comfort system upgrade to increase humidity.
Heavy Air Needs a Dehumidifier
Too much humidity isn't good either—high moisture content causes that damp or sticky feeling, aggravates allergies and asthma, and leads to mold, mildew, and musty odors. A dehumidifier is a healthy choice for a lot of people, and Day Plumbing, Heating, & Cooling is the preferred installation contractor in the Fairmont area.
Our whole-home humidifiers and dehumidifiers are far more convenient and efficient than small electric units, and they work with your heating and cooling systems to improve the air quality in every room. Call us today for a free consultation and learn more about protecting your health and home with humidity control.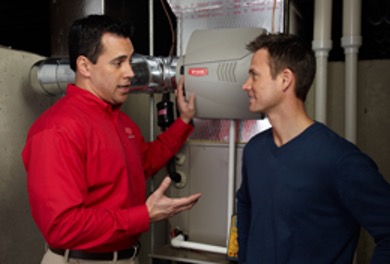 Book an Appointment
We cover all of your HVAC and plumbing needs. Book an appointment with us or give us a call for a free quote.
What People are saying
Very professional, informative, and friendly! Would recommend to my friends and family. Gas boiler went out overnight and called them at 10:00 AM. By 2:30 PM Bill had my boiler fired back up. ( On a morning where there were several others with the same problem, and I was originally told it could be awhile)
– Michael Johnson
Frequently Asked Questions
How often should I replace my furnace filter?
To help avoid costly repairs and maximize performance, recommended intervals are as follows: one-inch disposable filters should be replaced monthly.  Two-inch filters should be changed every two to three months. Five-inch MERV 8 filters we typically include with most of our furnace installations should be changed every six months. If you have allergies, smoke indoors, burn candles, have pets, or have construction in your neighborhood, it's likely you'll need to replace filters more often. Many thermostats included with new installations will automatically tell you when to change your filter.
What is the optimal humidity level for my house?
Every house is different, but an ideal humidity level for winter is 30-40%. Higher humidity in the winter makes your home feel warmer while your thermostat setting is lower. Optimal indoor humidity in the summer is 45-50%.  Reducing your humidity during the summer provides that same effect of added comfort without adjusting your thermostat to a lower temperature. A whole-home humidifier and dehumidifier are the best options for staying economically comfortable all year long.
How often do I need to have my heating and cooling equipment serviced?
Annual maintenance by a qualified company is recommended to promote energy efficiency, help prevent breakdowns, and extend equipment life.  It is always a good idea to test your system before you really need it to avoid emergencies.  Call us for service before extreme weather hits.
Does it matter what time of year my furnace or air conditioner is serviced?
No. We can perform service at any point during the year. However, since it's an outdoor unit, it's best to have an air conditioning system serviced when it's at least 70 degrees outside.
When do I know it's time to replace my furnace or air conditioner?
With proper maintenance, most furnaces last 16 to 18 years. Older systems are less energy-efficient and more costly in terms of repairs, replacement parts, and utility bills. If your heating system is over 10 years old it may last another 10 years if you do regular maintenance and minor repairs, but watch for slower warming, reduced airflow, higher energy bills, strange odors, and loud noises. These may be signs to consider a new furnace installation.
To fix or replace? As a general guideline, consider a replacement if the equipment is beyond three-quarters of its life expectancy and repairs will cost more than a third of the replacement. Also consider the cost to operate it each month because a newer, more efficient unit could save you money over time.
When is the best time to replace my furnace?
If you wait until your furnace dies to consider replacing it – it becomes an emergency- usually at the least opportune time. In a rush to restore heat, you may not carefully weigh all your options for service and savings, plus it will be more difficult to schedule an install in a timely manner. If you have annual maintenance performed, we'll be able to catch early warning signs and give you recommendations for a new installation before you have an emergency.
Get a Free Quote -or- Ask a Question

1410 E. Blue Earth Avenue
Fairmont, MN 56031
info@dayplumbing.com