Water Heater Service and Installation
Our prompt service means you'll soon be back in comfort
Hot water is essential to your home and business comfort. We're experts at installation and we service all brands and types of water heaters.
Not sure which hot water heater is best for your needs and budget? Give our Plumbing Coordinator a call to discuss your options. We can advise you in choosing between a standard gas or electric water heater, a power-vent gas water heater, a hybrid, or a tankless water heater.
Never want to run out of hot water?  Tankless Hot Water Heaters offer an endless supply of hot water, increased energy efficiency, a space-saving value, and extended unit life.
Day Plumbing features A. O. Smith water heaters which are energy-efficient, easy to maintain, and come standard with the latest innovations to provide your family with an abundant supply of hot water.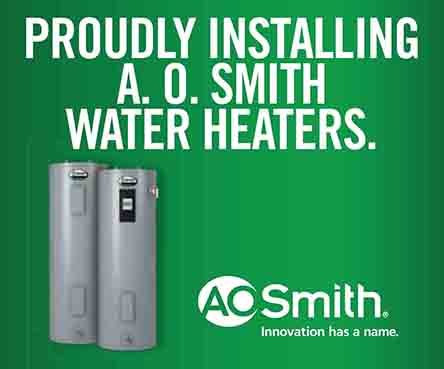 Book an Appointment
We cover all of your HVAC and plumbing needs. Book an appointment with us or give us a call for a free quote.
What People are saying
Today a part went out for steam heat at Pheasant Run Appartments. We had the good fortune to call Day Plumbing in Fairmont. They sent someone to Sioux Falls to get parts on a Saturday morning and came back and did repairs right after dinner. We are so thankful for their help and the plumber that was on call. Fairmont is so fortunate to have Day Plumbing. 
– Patty Taylor Buckmeier
Bathroom Remodel Frequently Asked Questions
Will a DAY designer help me choose all of the materials?
Yes, Your Day Plumbing Coordinator will help you navigate your options and make a choice that fits your style and budget.
Should I have design ideas before I start the renovation process?
Not necessarily, although it is helpful to have a general idea and/or photos of what you like in order to make your decisions easier.
What features should I plan to invest in the most for my new bathroom?
Quality Tubs, Showers and Vanities are usually the ones to give the most thought.
Is there a good alternate to tiling a shower?
Yes, we have various samples of the solid surface shower and tub surround options in our showroom.  These materials are beautiful, and durable and avoid the common problems of leakage and mildew with grouted tile options.
Should I remodel my entire bathroom or do it in stages?
It can be done in stages, depending on your needs and budget.
Get a Free Quote -or- Ask a Question

1410 E. Blue Earth Avenue
Fairmont, MN 56031
info@dayplumbing.com